How a climate change denier works
When Malcolm Turnbull told his audience at the bar association dinner that "the Liberal Party and the Coalition is not capable of dealing with climate change" because of a group in the Coalition who believe that it is "a fraud", he was speaking of a group whose most vocal spokesman is the federal member for Hughes, Craig Kelly.
Kelly is engaged in an intense campaign of deliberate misinformation about climate change. Amongst articles from very dubious sources and lots more about weather at specific locations (as opposed to climate), he occasionally links to genuine research from credible organisations.
Invariably, when he does so, he will cherry pick one piece of data, or a sentence or two, and completely ignore the context, other results, and the actual conclusions from the research.
For example:
Craig declares in Trump-like capitals, ANOTHER PROPHECY BITES THE DUST : MORE SNOW, NOT LESS, and links to the following graph of Winter Northern Hemisphere Snow Extent from Rutgers University Global Snow Lab, a well-respected source.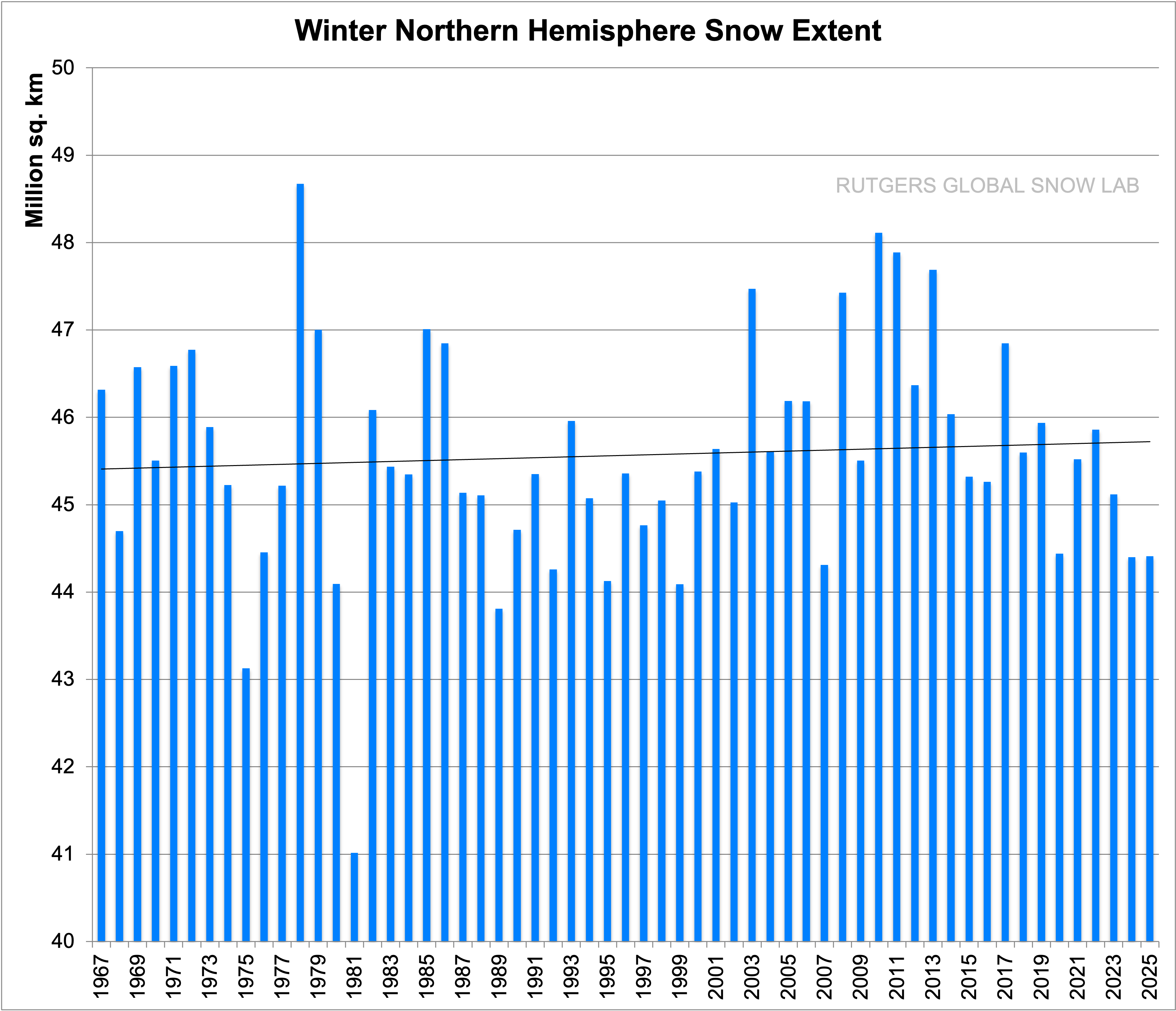 Railing against a comment made 18 years ago that snow might become rarer, Craig goes on an over-the-top rant.
This prophecy was peddled in the year 2000 to radicalise people into the climate cult, by making people guilty that unless we surrendered our sovereignty to UN bureaucrats and bought more solar panels from China, that we'd be denying future generations of children the fun of playing in the snow. But 18 years on, the prophecy has not only failed – but again it's been the exact opposite; the world is getting more snow not less.
Despite the comments by one person in a newspaper article from 2000, the prevailing scientific thought at the time was "we don't necessarily expect winter snow fall or snow cover to decline in the short-term in a warming world. What we do expect is for this snow cover to melt earlier as spring arrives sooner, and at higher temperatures."
Going forward, in mid winter, climate change means that snowfalls will increase because the atmosphere can hold 4% more moisture for every 1°F increase in temperature. So as long as it does not warm above freezing, the result is a greater dump of snow. Observations of snow cover for the northern hemisphere indeed show slight increases in mid-winter (December-February) but huge losses in the spring
Going back to Kelly's source to check on Spring snowfall cover verifies that this has indeed been the case.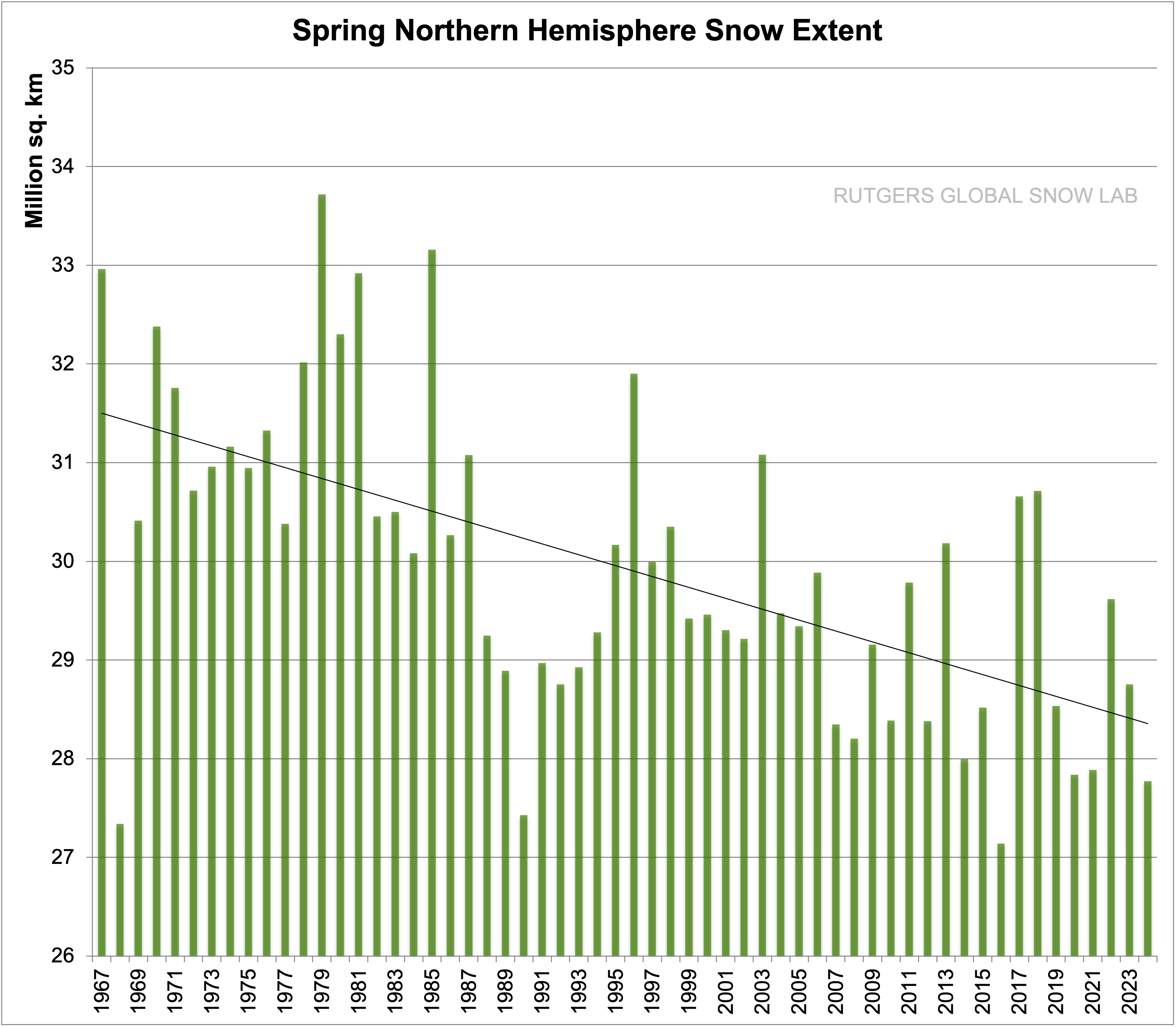 Craig has also taken to new research about coral reef islands as he tells us "RISING SEAS MAY BUILD, RATHER THAN DESTROY, CORAL REEF ISLANDS. Yet again the scientific evidence is the exact opposite of the alarmist climate Prophecies …", once again selectively quoting credible research before asking us to "Please share widely to help prevent young minds from being radicalised by green extremists."
The research does show that the majority of islands aren't shrinking but Kelly ignores the bits of the report that say "As these islands are mostly made from coral, a healthy coral reef is vital to provide the materials for island building. However, this could be problematic as corals face a range of threats under climate change, including increasing sea surface temperatures and ocean acidity," and more significantly, "It is also important to note that the large wave events required for reef island building may devastate island infrastructure, potentially compromising the habitability of reef islands in their current form."
Aside from not understanding the difference between weather and climate, the stuff Kelly posts at times is doctored.
In the blurb before posting it, Kelly said "See : https://www.ncdc.noaa.gov/extremes/scec/records" presumably to try to lend some credibility to his post. Except it came from a weather channel…in 2016. So much for records "between 2000-2018". A more pertinent question might be to ask how many places have experienced record temperatures in the last five years.
Bizarrely, yesterday Kelly linked to a book that was published in 2006 called "THE IMPROVING STATE OF THE WORLD : WHY WE'RE LIVING LONGER, HEALTHIER, MORE COMFORTABLE LIVES ON A CLEANER PLANET."
He then reproduced the "Foreword by Freeman Dyson* to the above titled book by Idur Goklany", the asterix explaining that Dyson is a retired theoretical physicist – see, a scientist.
This book is 12 years old. Eight of the ten hottest years on record have happened since then. And the author is an electrical engineer, not a climate scientist. As for Dyson, in his own words, "I know a lot about nuclear weapons and nothing about climate change. I like to express heretical opinions," he said, with an impish gleam in his eye.
Previously I have said I do not know if Kelly is dumb or corrupt. After observing his deliberate manipulation of information, the word 'or' is no longer applicable.
Like what we do at The AIMN?
You'll like it even more knowing that your donation will help us to keep up the good fight.
Chuck in a few bucks and see just how far it goes!
Your contribution to help with the running costs of this site will be gratefully accepted.
You can donate through PayPal or credit card via the button below, or donate via bank transfer: BSB: 062500; A/c no: 10495969